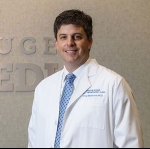 Today, he is the head orthopedic surgeon for the New Orleans Saints and an integral part of the Baton Rouge community. But when he was younger, Larry Bankston never thought he would stay in Louisiana.
Growing up and attending LSU's University Lab School—mere feet from the college campus—Bankston says by the time he reached sixth grade, he was so over the university.
But after receiving an offer to swim competitively at LSU during college, he begrudgingly decided to go.
Being a college athlete inspired him to look into the field of sports medicine. Before he knew it, he was a student at LSU Medical School, and then completing his residency and fellowship in Alabama and North Carolina.