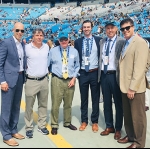 If you're a die-hard New Orleans Saints follower, you know the rules of being a fan. Be at the Mercedes Benz Superdome extra early, arrive dressed in your Saints gear, and make sure the Saints' war cry "WHO DAT?!" is yelled at the top of your lungs, as often as possible.
"Who dat? Who dat? Who dat say dey gonna beat dem Saints?"
A year ago, Larry "Chip" Bankston was sitting in the stands of the Superdome, cheering on the saints. He was born and raised in Baton Rouge, Louisiana, where he still lives with his wife and two young children.